Moderator's Roles:
Administrator
Online role-play moderators provide guidance and solve technical issues. The online role-play moderator needs to delete wrong or duplicated messages in forums and other meeting places. Enforcing "participation obligation"* may also be classified as an administrator's task.
EXAMPLE from World Politics in Transition RP
---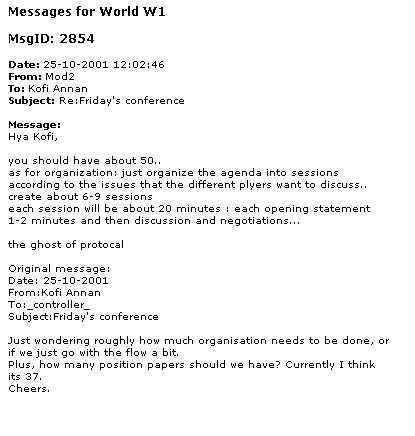 Roni Linser, UMelb
---------------------
* MORE ABOUT "PARTICIPATION OBLIGATION"
Effective game progression requires that every role meets the "participation obligation" of role-playing. If a role with a critical stakeholder viewpoint does not participate effectively, it is difficult for the whole online role-play to explore issues related to that particular viewpoint. Participation obligation is a term used to describe the requirement of players to participate with regular frequency and involvement. This is usually set as a "hurdle" requirement and must be communicated to students before they are assigned a role in the online role-play.